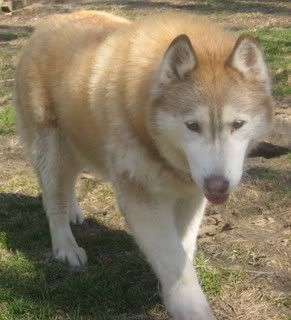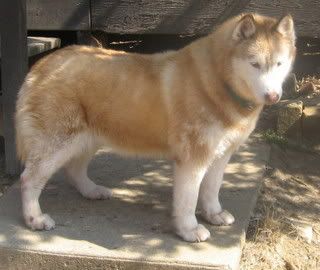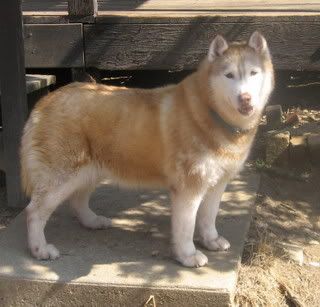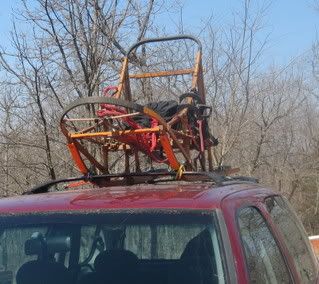 Today I'm going to introduce you to one of the sweetest pointy-earred Husky Heathens I live with. "Nakita" likes to visit libraries and elementary schools to teach the kids about the Iditarod and sled dog racing. She goes with my old human with all her sledding equipment, and then gives kisses and gets petted like crazy. Some dogs have all the fun! This past Wednesday, Nakita went to do her last sled dog program. She is getting elderly, I think she's twelve going on thirteen years. "Nakita" is officially "Nakita of the Smoky Hills". Years and years ago, when my old female human was active in Siberian rescue, Nakita's former owner called her and said "If you don't take her, she'll go to the pound tomorrow"! Apparently, Nakita didn't like a dog in her obedience class and growled at it. Her previous owner was afraid Nakita would bite her kids. Well, in the ten years Nakita has lived with us, she has never offered to growl at any human. Never. And she's had hundreds and hundreds of people pet her with all her presentations. She is royally bred, too: her sire is a show champion. You can see her pedigree at www.pawvillage.com, and type in "Nakita of the Smoky Hills". She's even been on the cover of a newspaper TWICE! She was shown a few times, the first time out she won RWB, and always placed in the other shows. She wasn't top show quality,definitely solid, but not top of the line. So, she was spayed and retired to go on to really fun things, like sled dog programs! The kids get to touch all the sled equipment, stand on the sled runners and pet Nakita. My old human likes to point out to the kids that Nakita is directly related to Togo, the famous lead dog (which I think nearly all Siberians are), and he is 13 generations behind her. The old human likes to tell kids about all the great dogs that can be adopted from animal shelters. They are amazed that Nakita could have been there, and that many purebreds are there along with their mixed parentage friends.
Enjoy the photos of our dog sled on the van (my human gets plenty of funny looks when she drives with the sled strapped to the van's roof!) and also of beautiful, sweet Nakita. Just think. Her previous owner was ready to dump her in a kill shelter in western Kansas. Nakita is truly a "diamond in the ruff"!
Slurps,
Miss Stella
ps-Bruce and Nakita came from the same breeder, and I believe that they are cousins!
pps-Check out the Byrd Herd's blog...see photos of General's progress!